Sonus Umbra Beyond The Panopticon Essay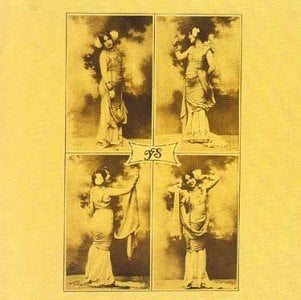 This is wonderful!
In the mid 00s when I started listening to progressive rock, I remember I went so some prog sites in order to look for Mexican bands, and, though Sonus Umbra is actually not a Mexican band, its roots, and its mastermind are, which is why I felt the need to know their albums. Later, for some years I did not follow their tracks until a couple of years ago, when they visited Mexico City for a wonderful and intimate concert in which we could witness them playing mostly songs from Beyond the Panopticon, their latest release which believe me, is great.
The album is not that long (43 minutes approx), which I love because it runs so fast that I can play it twice in a row without a problem. It features six compositions that show a different face of the band, an eclectic, fine and delicate sound made by low profile but first- class musicians. There are killer instrumental moments but a think I loved is they have both male and female singers, making an equilibrated ambitious experience.
It kicks off with "Grotesquerie". Heavy prog in the first seconds contrasted by softer moments that make a very cool prog rock journey in which the band show their fine skills. The bass is always present as a main instrument, it has to. Piano, flute, guitars (acoustic and electric) and drums, all sum-up a wonderful combo that make this a very good instrumental opening track. "Alone Together Alone" is a longer and colorful track. I love that Sonus Umbra doesn't have a specific classification, I mean, their eclecticism shares heavy prog moments, some folky passages or symphonic arrangements. After almost three minutes Ben-Yoseph's vocals appear for the first time, adding a soft and delicate sound to the already great music. Later, Lee-Moffit's voice also appears and both sing together over a flute and acoustic guitar background, creating some kind of joyous atmospheres.
"Blood and Diamonds" bring to my mind Jethro Tull immediately, and not actually due to the flute's sound, but due to the guitar and that initial part that is repeated later. The music develops different phases and structures, so the music is never plain, it fact, its changes could work as a novel so you can create your own mind story. I love Tim McCaskey and Rich Poston's work, their delicate playing can be so profound that it hits you deep inside. Lovely! This is a great and friendly prog rock song without a doubt. "Paramnesia" is a magnificent instrumental rollercoaster; it was my favorite song when I first listened to the album. Once again the musicians show their wonderful skills and how they understand each other. The song adds a clarinet so they bring a kind of chamber rock sound in the beginning. Later it makes some changes, becoming a bit more aggressive for an instant just in order to calm down and reach for a spacey sound made by keyboards. Then a calm moment but all of a sudden electric guitar appears with a killer solo. Awesome!
The album is reaching its final part. "Love Undone" is the shortest composition here, it brings both singers adding their soft but passionate vocals while acoustic guitar works as background. Then there is an instrumental passage with some cool percussion that is developing a new structure little by little, in order to reach the climax, which is the final part of the song. Last but not least, "Channel Zero" which is, in the other hand, the longest composition of the album. It has a dark atmosphere created by the bass sound and a cello. Later it becomes more colorful and though that dark nuance is kept here and there, the light and peaceful moments appears later with the exquisite acoustic guitar. It is an excellent song to finish a wonderful album.
Of course, I recommend this to you. Sonus Umbra is a great whose music should be spread to more and more ears in the whole world. Enjoy it!
I hope my readers will forgive me if this post is somewhat less detailed than the ones I wrote in the past, as up to the very last moment I was not sure I felt up to writing my usual "Best of the Year" piece. However, I have tried my best to comment on the many highlights of a year that – while utterly dismal in terms of global events – was definitely a bumper year for interesting progressive music.
In my native Italy, leap years are considered unlucky, and 2016 did nothing to dispel this myth, crammed as it was with global turmoil and high-profile deaths. For prog fans, this year will go down in history for the double whammy of Keith Emerson and Greg Lake's loss, as well as David Bowie's passing a couple of days after the release of his Blackstar album. On the other and, while many of the protagonists of prog's heyday have started leaving this planet, the younger generations – though faced with a world increasingly uncaring about music as an art form – have been forging a path ahead for the progressive genre, often displaying the barest of affiliations to the modes of the past. A few of the names that will appear in this post, as well as in many fans' lists, have received warm accolades in the  "mainstream" press, and are therefore getting exposed to more diverse audiences. In many ways, these artists resemble the original prog generation in their desire to explore and experiment, rather than stick to a tried-and-tested formula as the "retro" acts do.
Even if lately my reviewing activity has been almost non-existent, I have kept in touch with new releases through my regular participation in DPRP's Something for the Weekend? feature. On the other hand, a lot of highly rated 2016 albums have flown directly under my radar, so anyone who wishes to read further should take the absence of a rather large number of prog fans' favourites into account – as the title of this post makes it quite clear. As usual, I have not had either the time or the inclination (or both) to listen to many of the albums that are prominently featured in many people's Top 10 (or 20, or 50…) lists, because the amount of music released during the past 12 months under the increasingly broad "progressive" label was nothing short of staggering. And then, in all honesty, my tastes have been steadily drifting away from the traditional prog still enthusiastically embraced by both artists and fans. While I still have a lot of time for the classics, I am constantly on the lookout for modern music that will redefine the prog label without sounding derivative. In this respect, 2016 was like a 12-month Christmas.
For this edition, I have decided to adopt a similar format to the one used by my esteemed friend and fellow reviewer, Roger Trenwith, on his excellent Astounded by Sound! blog. In this way, I will still avoid the dreaded (though popular) numbered list, and at the same time make it somewhat easier for my readers to pick out albums. Although the order of appearance may partly reflect my own preferences, all the albums briefly described in the following paragraphs are well worth checking out. I have tried to include all those albums that have impressed me during the past 12 months, (many of which have already been recommended by me or my fellow reviewers on Something for the Weekend?) though obviously there are bound to be omissions for which I apologize beforehand. Links to Bandcamp or other streaming services are provided whenever available.
And here we go…
Knifeworld –Bottled Out of Eden (UK) – A real joy from start to finish, as intricate and eclectic as the best vintage prog,  Knifeworld's third release is yet another winner from prog's other busiest man, the one and only Kavus Torabi.
North Sea Radio Orchestra – Dronne (UK)  – Another Cardiacs-related effort, the fourth album by the ensemble led by Craig Fortnam is pure class, brimming with ethereal beauty and sterling performances.
Bent Knee – Say So (USA) – The third full-length release from the Boston crew led by charismatic vocalist Courtney Swain boasts interesting songwriting and an almost punky edge, tempered by a sort of  confessional vibe.
Gong – Rejoice! I'm Dead! (Multi-national) – Though Daevid Allen may be gone from this earthly plane, he left his beloved creature in the trusty hands of Kavus Torabi (again!), who gives the album a modern edge while paying homage to the band's decades-long history.
Gösta Berlings Saga – Sersophane (Sweden) – Released just two weeks before the end of the year, the long-awaited fourth album from the magnificent Swedes (augmented, as usual, by Mattias Olsson) brings 2016 to a close with a bang. 40 minutes of stunningly hypnotic instrumental music by one of the finest bands in the business.
Deus Ex Machina – Devoto (Italy) – Another highly awaited comeback from one of Italy's most distinctive bands, chock full of energy, melody and outstanding performances – though without any Latin in sight.
Yugen – Death by Water (Italy) – The iconic Milan-based ensemble led by guitarist Francesco Zago is back with a dense, austere album that demands a lot from the listener. Modern Avant-Prog at its finest.
Zhongyu – Zhongyu (USA) –  Seamlessly blending jazz-rock, Avant-Prog, Far Eastern music and improvisation, the debut album by Jon Davis' Seattle-based quintet (featuring three members of Moraine) is a must-listen for lovers of cutting-edge instrumental prog.
Richard Pinhas & Barry Cleveland – Mu(Multi-national) – Beautifully atmospheric music performed by a quartet of extremely gifted musicians – guitarists Pinhas and Cleveland plus the extraordinary rhythm section of Michael Manring and Celso Alberti.
Mamma Non Piangere – N.3 (Italy) – The triumphant return of the veteran Italian RIO/Avant outfit will put a smile on your face,even if you do not understand the language. Stunning vocal performance from Laura Agostinelli of Garamond.
Jeremy Flower – The Real Me(USA) – Carla Kihlstedt lends her vocals and violin to this lovely album from a gifted Boston-based musician. Top-class, surprisingly accessible chamber pop.
Finnegan Shanahan – The Two Halves(USA) – A charming, chamber prog-meets-Celtic folk debut for a talented young musician.
The Winstons – The Winstons(Italy) – Three established indie musicians from Italy pay homage to early Soft Machine inone of the very few unabashedly retro efforts that actually works.
Panzerpappa – Pestrottedans(Norway) – Avant-Prog that will not scare first-timers away with a distinct new-Canterbury flavour from one of Norway's most reliable bands
Corima – Amaterasu (USA) – Magma meets punk in the highly anticipated sophomore release of California's electrifying Zeuhl-ers.
Chromb! – 1000 (France) – The Lyon scene is a real treasure trove of great bands exploring the many facets of the Avant universe – as illustrated by Chromb!'s outstanding third album.
Ukandanz – Awo (France) – What would happen if you crossed traditional Ethiopian music with RIO/Avant? The answer is Ukandanz –another winner from the seemingly inexhaustible  Lyon scene.
Herd of Instinct – Manifestation (USA) –  Intense and mysterious, yet pervasively melodic, the Texas band's third album displays a stronger influence from their Djam Karet mentors than their previous releases.
Emmett Elvin – Assault on the Tyranny of Reason(UK) – Proudly eclectic (and unexpectedly fun) effort from the man behind the keyboards of modern prog giants Knifeworld, Guapo and Chrome Hoof.
French TV –  Ambassadors of Health and Clean Living (USA) – Mike Sary's veteran project's comeback, recorded with the members of Japanese instrumental band TEE, offers a challenging  blend of RIO/Avant and jazz-rock.
Jack O' The Clock – Repetitions Of The Old City I (USA) – The latest effort from Damon Waitkus' crew confirms their status as purveyors of unique-sounding chamber rock.
Ampledeed – BYOB (USA) – The second album from the Californian band brings more top-notch art rock with plenty of diverse influences
Luz de Riada – Cuentos y Fabulas 3 (Mexico) – Ramsés Luna's collective sounds like almost nothing else, though of course fans of Cabezas de Cera will found a lot to love in this album.
Nicotina Es Primavera – Animal Cerámico (Argentina) – From the thriving Argentinian scene, sophisticated yet accessible Avant-Prog from an excellent new band.
Amoeba Split – Second Split (Spain) – The Canterbury sound gets a 21-st century makeover in this outstanding instrumental album
Half Past Four – Land of the Blind (Canada) – The irrepressible Canadians pack more into an EP than many bands in 80 minutes. Quirky, elegant and fun modern prog.
Ulver – ATGCLVLSSCAP(Norway) – The mighty Norwegians' homage to vintage Krautrock is pristinely beautiful.
a.P.A.t.T. – Fun With Music (UK) – Just what the title says. Everything-but-the-kitchen-sink eclecticism rules!
Ill Wicker – Untamed(Sweden) – Dark, haunting acid-folk inspired by Comus and other Seventies cult bands.
Vespero – Lique Mekwas (Russia) – Russia's answer to Ozric Tentacles deploy their whole arsenal of psych/space rock with intriguing world music touches.
Psychoyogi – Shrine (UK) – Short but sweet 2016 release from one of the UK scene's hidden treasures – a must for "new Canterbury" fans.
Simon McKechnie – From My Head to My Feet (UK) –  Another lesson on how to add interest and progressive quotient to the song format from one of the genre's unsung heroes.
David Bowie – Blackstar (UK)  – Released just before his unexpected passing, Bowie's swan song is a riveting testimony to his undimmed creative spirit.
N.y.X. – The News (Italy) – Darkly Crimsonian vibes abound in the northern Italian trio's second album.
Axon/Neuron – Metamorphosis (USA) – An eclectic double CD for an excellent female-fronted band in the MoeTar vein.
iNFiNiEN – Light at the Endless Tunnel (USA) – Third album for another MoeTar-inspired band, with artwork from Tarik Ragab himself.
The Stargazer's Assistant – Remoteness of Light – Mesmerizing, multilayered soundscapes from Guapo drummer David J. Smith.
Sternpost – Statues Asleep (Sweden) – Ethereal, sophisticated chamber-pop reminiscent of Robert Wyatt.
Yawning Man – Historical Graffiti (USA) – A stunning instrumental "desert rock" album recorded in Argentina from an excellent southern California outfit.
Iron Mountain – Unum (Ireland) – Post-rock meets folk-metal  in this intriguing instrumental album.
Vaults of Zin – Kadath (USA) – HP Lovecraft-inspired Avant-Zeuhl-Metal.
Thank You Scientist – Stranger Heads Prevail (USA) – Energetic prog-pop from New Jersey's wrecking crew.
The Mercury Tree – Permutations(USA) – Intricate, guitar-based modern prog from a band in constant development.
Edensong – Years in the Garden of Years (USA) – The long-awaited second album from the New Jersey band will not disappoint fans of hard-edged prog.
Shamblemaths – Shamblemaths (Norway)  – Ambitious debut from another promising Norwegian outfit – eclectic prog at its finest.
Seven Impale – Contrapasso (Norway) – A darker, more intense follow-up to their highly praised debut.
Disen Gage – Snapshots (Russia) – Eclectic, guitar-based instrumental prog with a playful edge.
Factor Burzaco – 3.76 (Argentina) – New versions of older material from Argentina's leading Avant-Prog outfit.
Bubu – Resplandor (Argentina) – A short but highly satisfying comeback from a band that fully deserves its cult status.
Griot – Gerald (Portugal) – The concept album reinterpreted in modern art-rock terms.
Mothertongue – <em>Unsongs (UK) – Exhilarating, brass-led progressive pop.
Afenginn – Opus (Sweden) – Haunting Scandinavian prog-folk.
Violeta de Outono – Spaces (Brazil) – Psych-space meets Canterbury with a South American flavour.
The Observatory – <em>August Is the Cruellest (Singapore) – Moody, melancholy post-rock inspired by T.S. Eliot's poetry.
Macroscream – Macroscream (Italy) – The second album of this Roman six-piece hovers between tradition and quirkiness.
Il Rumore Bianco – Antropocene (Italy) – RPI with an edge for the full-length debut of this band from Verona.
Syndone – Eros e Thanatos (Italy) – Cinematic RPI with echoes of Van Der Graaf.
Mad Fellaz – II (Italy) – For fans of the jazzier, funkier side of Italian prog.
Alex's Hand – Künstler Sch***e (USA) – Another Avant-punk opus from the Seattle crew.
Horse Lords – Interventions (USA) – African-inspired polyrhythms and a saxophone that sounds just like a guitar. Oh my!
Za! – Loloismo (Spain) – A percussion-driven mix of styles with an almost tribal flair.
Goat – Requiem (Sweden) – African rhythms (again!) meet psychedelic rock with interesting results.
Sparkle in Grey – Brahim Izdag(Italy) – A celebration of multiculturalism through rock, electronics and a lot more.
Savoldelli/Casarano/Bardoscia – The Great Jazz Gig in the Sky (Italy) – One of the most brilliant ideas ever for a tribute album. Jazz and Dark Side of the Moon are a match made in heaven!
Pluck & Rail – Trigger (USA) – A fine roots/folk album featuring Frogg Café's Andrew Sussman
Tiles – Pretending 2 Run (USA) – The ambitious return of  the Detroit heavy proggers is a double CD package put together with the utmost care.
Sonus Umbra – Beyond the Panopticon (USA) – Heavy yet melodic, atmospheric comeback from the Chicago-based septet led by Luis Nasser.
Mike Kershaw – What Lies Beneath(UK) – Melancholy, atmospheric song-based progressive rock
Matthew Parmenter – All Our Yesterdays (USA) –  A collection of classy, deeply emotional songs from Discipline's mainman.
Fractal Mirror – Slow Burn 1 (The Netherlands) – Another laid-back album of song-based modern art rock
iamthemorning – Lighthouse (Russia) – Ethereal and delicate offering from the highly-regarded Russian duo.
Marbin – Goat Man and the House of the Dead (USA) – Eclectic, high-energy fusion from one of the progressive scene's busiest bands.
Though as a rule I generally mention albums I have heard in their entirety, this year I will make an exception for a handful of interesting albums that – for some reason or another – I have managed to listen to only partially:
Stick Men – Prog Noir (Multi-national) – Waiting for King Crimson to release some new material, here is a feast for lovers of touch guitars and intricate polyrhythms.
Moulettes – Preternatural (UK) – Mythical creatures inspire this slice of  exciting, hyper-eclectic "wonky pop".
The Sea Nymphs – On the Dry Land (UK) – The second of the "lost" albums by Cardiacs' spin-off trio is elegiac and whimsical.
Bob Drake – Arx Pilosa (USA/France) – A collection of bite-sized Avant-Pop songs from one of Thinking Plague's founders.
Free Salamander Exhibit – Undestroyed (USA) – The much-anticipated return of some former members of Sleepytime Gorilla Museum hits all the right buttons.
Three Trapped Tigers – Silent Earthling (UK) – Hypnotic yet surprisingly melodic take on math-rock.
Although, as I pointed out in the introduction,  in my list there are quite a few of what the average prog fan would consider glaring omissions, I believe that the majority of the music mentioned above has the potential to appeal to anyone but the most hidebound listeners. It might not be "your father's prog", but it is definitely worth a try if you want to expand your musical horizons – and support a bunch of highly deserving artists (and the independent labels that keep up the good work in spite of all the setbacks) in the process.
Before I bring this rather lengthy post to a close, I would like to spend a few words on the question of reviews, or lack thereof. As much as I would love to start reviewing again on a regular basis, I do not see myself resuming that activity – which was of great comfort to me in difficult times – on the scale of the earlier years of this decade. In a person's life there is probably a time for everything, and my career as a reviewer was probably fated to be a short (though intense) one. I will keep this blog alive on behalf of the many bands and artists whom I wrote about in the past few years, and for publishing the occasional piece like this one. However, I believe it is time to pass the torch to other reviewers, who are much more prolific and reliable than I have been since 2013 or so. I will keep up my contributions to Something for the Weekend? as a means of spreading the word about new music, as well as occasionally adding some band to the ProgArchives database. In the meantime, while we wait for the first 2017 releases, I hope my readers will discover at least one new band or solo artist by browsing my suggestions. Happy listening, and a great 2017 to everyone!
Save
Save
Save
Save
Save
Save
Save
Save
Save
Save
Save
Save
Save
Save
Save
Save
Save
Save
Save
Save
Save
Save
Save
Save
Save
Save
Save
Save
Save
Read Full Post »