Ms 57 Solved Assignment 2012 Presidential Candidates
Change History: Interactive Maps for All 57 Presidential Elections Now Available
April 22, 2016
We've launched the remaining interactive historical maps. These 57 maps let you alter the course of history by changing the outcome of any prior presidential election. You can modify results, winners and election participants.
The first competitive election: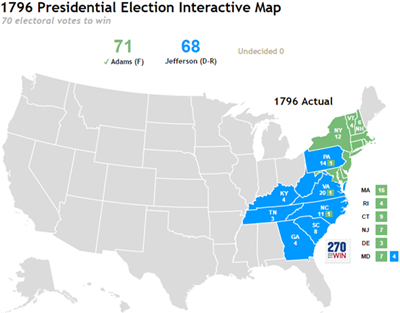 The first election decided in House of Representatives: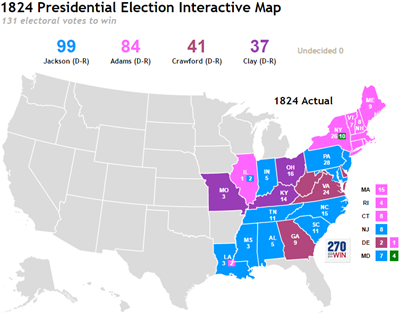 Abraham Lincoln is elected on the eve of Civil War: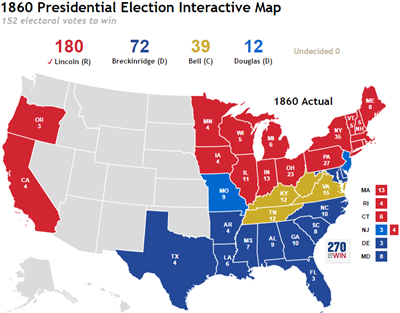 Florida, Florida, Florida: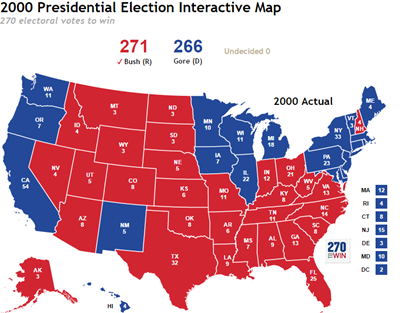 comments powered by Disqus
---
X
Content Display Issues
A few people have reported problems viewing certain 270toWin election maps and/or polls. If you have an Ad Blocker in place, please disable it. Separately, you may not be able to view our maps in the new IE10 browser due to some changes Microsoft has made regarding the display of Flash content. This issue will not be fixed prior to the election, so you may want to visit 270toWin using a different web browser. Sorry for any inconvenience.
For the most recent election, see United States presidential election, 2016. For the upcoming election, see United States presidential election, 2020.
See also: List of Presidents of the United States
The election of President and Vice President of the United States is an indirect election in which citizens of the United States who are registered to vote in one of the 50 U.S. states or Washington, D.C. cast ballots for members of the U.S. Electoral College, known as electors. These electors then in turn cast direct votes, known as electoral votes, for President and Vice President. The candidate who receives an absolute majority of electoral votes for President or Vice President (currently, at least 270 out of a total of 538) is then elected to that office. If no candidate receives an absolute majority for President, the House of Representatives chooses the President; if no one receives a majority for Vice President, then the Senate chooses the Vice President.
The Electoral College and its procedure is established in the U.S. Constitution by Article II, Section 1, Clauses 2 and 4; and the Twelfth Amendment (which replaced Clause 3 after its ratification in 1804). Under Clause 2, each of the states casts as many electoral votes as the total number of its Senators and Representatives in Congress, while, per the Twenty-third Amendment ratified in 1961, Washington, D.C. casts the same number of electoral votes as the least-represented state, which is three. Also under Clause 2, the manner for choosing electors is determined by each state legislature, not directly by the federal government. Many state legislatures previously selected their electors directly, but over time all of them switched to using the popular vote to help determine electors, which persists today. Once chosen, electors generally cast their electoral votes for the candidate who won the plurality in their state, but at least 21 states do not have provisions that specifically address this behavior; those who vote in opposition to the plurality are known as "faithless" or "unpledged electors".[1] In modern times, faithless and unpledged electors have not affected the ultimate outcome of an election, so the results can generally be determined based on the state-by-state popular vote.
Presidential elections occur quadrennially with registered voters casting their ballots on Election Day, which since 1845 has been the first Tuesday after November 1.[2][3][4] This date coincides with the general elections of various other federal, state, and local races; since local governments are responsible for managing elections, these races typically all appear on one ballot. The Electoral College electors then formally cast their electoral votes on the first Monday after December 12 at their respective state capitals. Congress then certify the results in early January, and the presidential term begins on Inauguration Day, which since the passage of the Twentieth Amendment has been set at January 20.
The nomination process, consisting of the primary elections and caucuses and the nominating conventions, was not specified in the Constitution, but was developed over time by the states and political parties. These primary elections are generally held between January and June before the general election in November, while the nominating conventions are held in the summer. Though not codified by law, political parties also follow an indirect election process, where voters in the 50 U.S. states, Washington, D.C., and U.S. territories, cast ballots for a slate of delegates to a political party's nominating convention, who then in turn elect their party's presidential nominee. Each party may then choose a vice presidential running mate to join the ticket, which is either determined by choice of the nominee or by a second round of voting. Because of changes to national campaign finance laws since the 1970s regarding the disclosure of contributions for federal campaigns, presidential candidates from the major political parties usually declare their intentions to run as early as the spring of the previous calendar year before the election (almost 18 months before Inauguration Day).[5]
History[edit]
Article Two of the United States Constitution originally established the method of presidential elections, including the Electoral College. This was a result of a compromise between those constitutional framers who wanted the Congress to choose the president, and those who preferred a national popular vote.[6]
Each state is allocated a number of electors that is equal to the size of its delegation in both houses of Congress combined. With the ratification of the 23rd Amendment to the Constitution in 1961, the District of Columbia is also granted a number of electors, equal to the number of those held by the least populous state. However, U.S. territories are not represented in the Electoral College.
Constitutionally, the manner for choosing electors is determined within each state by its legislature. During the first presidential election in 1789, only 6 of the 13 original states chose electors by any form of popular vote.[7] Gradually throughout the years, the states began conducting popular elections to help choose their slate of electors, resulting in the overall, nationwide indirect election system that it is today.
Under the original system established by Article Two, electors could cast two votes to two different candidates for president. The candidate with the highest number of votes (provided it was a majority of the electoral votes) became the president, and the second-place candidate became the vice president. This presented a problem during the presidential election of 1800 when Aaron Burr received the same number of electoral votes as Thomas Jefferson and challenged Jefferson's election to the office. In the end, Jefferson was chosen as the president because of Alexander Hamilton's influence in the House of Representatives. This added to the deep rivalry between Burr and Hamilton which resulted in their famous 1804 duel.
In response to the 1800 election, the 12th Amendment was passed, requiring electors to cast two distinct votes: one for President and another for Vice President. While this solved the problem at hand, it ultimately had the effect of lowering the prestige of the Vice Presidency, as the office was no longer for the leading challenger for the Presidency. The separate ballots for President and Vice President became something of a moot issue later in the 19th century when it became the norm for popular elections to determine a state's Electoral College delegation. Electors chosen this way are pledged to vote for a particular presidential and vice presidential candidate (offered by the same political party). So, while the Constitution says that the President and Vice President are chosen separately, in practice they are chosen together.
The 12th Amendment also established rules when no candidate wins a majority vote in the Electoral College. In the presidential election of 1824, Andrew Jackson received a plurality, but not a majority, of electoral votes cast. The election was thrown to the House of Representatives, and John Quincy Adams was elected to the presidency. A deep rivalry resulted between Andrew Jackson and House Speaker Henry Clay, who had also been a candidate in the election.
Since 1824, aside from the occasional "faithless elector," the popular vote determines the winner of a presidential election by determining the electoral vote, as each state or district's popular vote determines its electoral college vote. Although the nationwide popular vote does not directly determine the winner of a presidential election, it does strongly correlate with who is the victor. In 52 of the 56 total elections held so far (about 93 percent), the winner of the national popular vote has also carried the Electoral College vote. The winners of the nationwide popular vote and the Electoral College vote differ only in close elections. In highly competitive elections, candidates focus on turning out their vote in the contested swing states critical to winning an electoral college majority, so they do not try to maximize their popular vote by real or fraudulent vote increases in one-party areas.[8]
However, candidates can fail to get the most votes in the nationwide popular vote in a Presidential election and still win that election. In the 1824 election, Jackson won the popular vote, but no one received the majority of electoral votes. According to the 12th Amendment in the Constitution, the House of Representatives must choose the president out of the top 3 people in the election. Clay had come fourth, so he threw his support to Adams, who then won. Because Adams later named Clay his Secretary of State, Jackson's supporters claimed that Adams gained the presidency by making a deal with Clay. Charges of a "corrupt bargain" followed Adams through his term.
Then in 1876, 1888, 2000, and 2016, the winner of electoral vote lost the popular vote outright. Numerous constitutional amendments have been submitted seeking to replace the Electoral College with a direct popular vote, but none has ever successfully passed both Houses of Congress. Another alternate proposal is the National Popular Vote Interstate Compact, an interstate compact whereby individual participating states agree to allocate their electors based on the winner of the national popular vote instead of just their respective statewide results.
The presidential election day was established on a Tuesday in the month of November because of the factors involved (weather, harvests and worship). When voters used to travel to the polls by horse, Tuesday was an ideal day because it allowed people to worship on Sunday, ride to their county seat on Monday, and vote on Tuesday–all before market day, Wednesday. The month of November also fits nicely between harvest time and harsh winter weather, which could be especially bad to people traveling by horse and buggy.[9]
Until 1937, presidents were not sworn in until March 4 because it took so long to count and report ballots, and because of the winner's logistical issues of moving to the capital. With better technology and the 20th Amendment being passed, presidential inaugurations were moved to noon on January 20–allowing presidents to start their duties sooner.[9]
The Federal Election Campaign Act of 1971 was enacted to increase disclosure of contributions for federal campaigns. Subsequent amendments to law require that candidates to a federal office must file a Statement of Candidacy with the Federal Election Commission before they can receive contributions aggregating in excess of $5,000 or make expenditures aggregating in excess of $5,000. Thus, this began a trend of presidential candidates declaring their intentions to run as early as the Spring of the previous calendar year so they can start raising and spending the money needed for their nationwide campaign.[5]
The first president, George Washington, was elected as an independent. Since the election of his successor, John Adams, in 1796, all winners of U.S. presidential elections have represented one of two major parties. Third parties have taken second place only twice, in 1860 and 1912. The last time a third (independent) candidate achieved significant success (although still finishing in third place) was in 1992, and the last time a third-party candidate received any electoral votes not from faithless electors was in 1968.
Procedure[edit]
Eligibility requirements[edit]
Article Two of the United States Constitution stipulates that for a person to serve as President, the individual must be a natural-born citizen of the United States, at least 35 years old, and a resident of the United States for a period of no less than 14 years. A candidate may start running his or her campaign early before turning 35 years old or completing 14 years of residency, but must meet the age and residency requirements by Inauguration Day. The Twenty-second Amendment to the Constitution also sets a term limit: a President cannot be elected to more than two terms.
The U.S. Constitution also has two provisions that apply to all federal offices in general, not just the presidency. Article I, Section 3, Clause 7 states that if the U.S. Congress convicts any officer on impeachment, they may also bar that person from holding any public office in the future. And Section 3 of the Fourteenth Amendment prohibits the election to any federal office of any person who had held any federal or state office and then engaged in insurrection, rebellion or treason; this disqualification can be waived if such an individual gains the consent of two-thirds of both houses of Congress.
In addition, the Twelfth Amendment establishes that the Vice-President must meet all of the qualifications of being a President.
Although not a mandatory requirement, Federal campaign finance laws including the Federal Election Campaign Act state that a candidate who intends to receive contributions aggregating in excess of $5,000 or make expenditures aggregating in excess of $5,000, among others, must first file a Statement of Candidacy with the Federal Election Commission.[10] This has led presidential candidates, especially members from the two major political parties, to officially announce their intentions to run as early as the spring of the previous calendar year so they can start raising or spending the money needed for their nationwide campaign.[5] Potential candidates usually form exploratory committees even earlier to determining the feasibility of them actually running.
Nominating process[edit]
Main articles: United States presidential primary and United States presidential nominating convention
The modern nominating process of U.S. presidential elections consists of two major parts: a series of presidential primary elections and caucuses held in each state, and the presidential nominating conventions held by each political party. This process was never included in the United States Constitution, and thus evolved over time by the political parties to clear the field of candidates.
The primary elections are run by state and local governments, while the caucuses are organized directly by the political parties. Some states hold only primary elections, some hold only caucuses, and others use a combination of both. These primaries and caucuses are staggered generally between January and June before the federal election, with Iowa and New Hampshire traditionally holding the first presidential state caucus and primary, respectively.
Like the general election, presidential caucuses or primaries are indirect elections. The major political parties officially vote for their presidential candidate at their respective nominating conventions, usually all held in the summer before the federal election. Depending on each state's law and state's political party rules, when voters cast ballots for a candidate in a presidential caucus or primary, they may be voting to award delegates "bound" to vote for a candidate at the presidential nominating conventions, or they may simply be expressing an opinion that the state party is not bound to follow in selecting delegates to their respective national convention.
Unlike the general election, voters in the U.S. territories can also elect delegates to the national conventions. Furthermore, each political party can determine how many delegates to allocate to each state and territory. In 2012 for example, the Democratic and Republican party conventions each used two different formulas to allocate delegates. The Democrats-based theirs on two main factors: the proportion of votes each state gave to the Democratic candidate in the previous three presidential elections, and the number of electoral votes each state had in the Electoral College.[11] In contrast, the Republicans assigned to each state 10 delegates, plus 3 delegates per congressional district.[12] Both parties then gave fixed amounts of delegates to each territory, and finally bonus delegates to states and territories that passed certain criteria.[11][12]
Along with delegates chosen during primaries and caucuses, state and U.S. territory delegations to both the Democratic and Republican party conventions also include "unpledged" delegates that have a vote. For Republicans, they consist of the three top party officials from each state and territory. Democrats have a more expansive group of unpledged delegates called "superdelegates", who are party leaders and elected officials.
Each party's presidential candidate also chooses a vice presidential nominee to run with him or her on the same ticket, and this choice is rubber-stamped by the convention.
If no single candidate has secured a majority of delegates (including both pledged and unpledged), then a "brokered convention" results. All pledged delegates are then "released" and are able to switch their allegiance to a different candidate. Thereafter, the nomination is decided through a process of alternating political horse trading, and additional rounds of re-votes.[13][14][15][16]
The conventions have historically been held inside convention centers, but since the late 20th century both the Democratic and Republican parties have favored sports arenas and domed stadiums to accommodate the increasing attendance.
The popular vote on Election Day[edit]
Under the United States Constitution, the manner of choosing electors for the Electoral College is determined by each state's legislature. Although each state designates electors by popular vote, other methods are allowed. For instance, instead of having a popular vote, a number of states used to select presidential electors by a direct vote of the state legislature itself.
However, federal law does specify that all electors must be selected on the same day, which is "the first Tuesday after the first Monday in November," i.e., a Tuesday no earlier than November 2 and no later than November 8.[17] Today, the states and the District of Columbia each conduct their own popular elections on Election Day to help determine their respective slate of electors. Thus, the presidential election is really an amalgamation of separate and simultaneous state elections instead of a single national election run by the federal government.
Like any other election in the United States, the eligibility of an individual for voting is set out in the Constitution and regulated at state level. The Constitution states that suffrage cannot be denied on grounds of race or color, sex or age for citizens eighteen years or older. Beyond these basic qualifications, it is the responsibility of state legislatures to regulate voter eligibility.
Generally, voters are required to vote on a ballot where they select the candidate of their choice. The presidential ballot is a vote "for the electors of a candidate" meaning that the voter is not voting for the candidate, but endorsing a slate of electors pledged to vote for a specific presidential and vice presidential candidate.
Many voting ballots allow a voter to "blanket vote" for all candidates in a particular political party or to select individual candidates on a line by line voting system. Which candidates appear on the voting ticket is determined through a legal process known as ballot access. Usually, the size of the candidate's political party and the results of the major nomination conventions determine who is pre-listed on the presidential ballot. Thus, the presidential election ticket will not list every candidate running for President, but only those who have secured a major party nomination or whose size of their political party warrants having been formally listed. Laws are in effect to have other candidates pre-listed on a ticket, provided that enough voters have endorsed the candidate, usually through a signature list.
The final way to be elected for president is to have one's name written in at the time of election as a write-in candidate. This is used for candidates who did not fulfill the legal requirements to be pre-listed on the voting ticket. It is also used by voters to express a distaste for the listed candidates, by writing in an alternative candidate for president such as Mickey Mouse or comedian Stephen Colbert (whose application was voted down by the South Carolina Democratic Party). In any event, a write-in candidate has never won an election for President of the United States.
Because U.S. territories are not represented in the Electoral College, U.S. citizens in those areas do not vote in the general election for President. Guam has held straw polls for president since the 1980 election to draw attention to this fact.[18]
Electoral college[edit]
Main article: Electoral College (United States)
Most state laws establish a winner-take-all system, wherein the ticket that wins a plurality of votes wins all of that state's allocated electoral votes, and thus has their slate of electors chosen to vote in the Electoral College. Maine and Nebraska do not use this method, instead giving two electoral votes to the statewide winner and one electoral vote to the winner of each Congressional district.
Each state's winning slate of electors then meets at their respective state's capital on the first Monday after the second Wednesday in December to cast their electoral votes on separate ballots for President and Vice President. Although Electoral College members can technically vote for anyone under the U.S. Constitution, 24 states have laws to punish faithless electors,[19] those who do not cast their electoral votes for the person whom they have pledged to elect.
In early January, the total Electoral College vote count is opened by the sitting Vice President, acting in his capacity as President of the Senate, and read aloud to a joint session of the incoming Congress, which was elected at the same time as the President.
If no candidate receives a majority of the electoral vote (at least 270), the President is determined by the rules outlined by the 12th Amendment. Specifically, the selection of President would then be decided by a contingent election in a ballot of the House of Representatives. For the purposes of electing the President, each state has only one vote. A ballot of the Senate is held to choose the Vice President. In this ballot, each senator has one vote. The House of Representatives has chosen the victor of the presidential race only twice, in 1800 and 1824; the Senate has chosen the victor of the vice-presidential race only once, in 1836.
If the President is not chosen by Inauguration Day, the Vice President-elect acts as President. If neither are chosen by then, Congress by law determines who shall act as President, pursuant to the 20th Amendment.
Unless there are faithless electors, disputes, or other controversies, the events in December and January mentioned above are largely a formality since the winner can be determined based on the state-by-state popular vote results. Between the general election and Inauguration Day, this apparent winner is referred to as the "President-elect" (unless it is a sitting President that has won re-election).
Election calendar[edit]
The typical periods of the presidential election process are as follows, with the dates corresponding to the 2016 general election:
Spring 2015 – Candidates announce their intentions to run, and (if necessary) file their Statement of Candidacy with the Federal Election Commission
August 2015 to March 2016 – Primary and caucus debates
February 1 to June 14, 2016 – Primaries and caucuses
April to August, 2016 – Nominating conventions (including those of the minor third parties)
September and October, 2016 – Presidential election debates
November 8, 2016 – Election Day
December 19, 2016 – Electors cast their electoral votes
January 6, 2017 – Congress counts and certifies the electoral votes
January 20, 2017 – Inauguration Day
Trends[edit]
Previous experience[edit]
See also: List of Presidents of the United States by previous experience and List of Presidents of the United States by other offices held
Among all the U.S. Presidents, only Donald Trump had never held a position in either government or the military prior to taking the office.[20] The only previous experience that Zachary Taylor, Ulysses S. Grant, and Dwight D. Eisenhower had was in the military. Herbert Hoover previously served as the Secretary of Commerce. Everyone else served in elected public office before becoming president, such as being Vice President, a U.S. congressman, or a state or territorial governor.
Fourteen Presidents have served as Vice President. However, only John Adams (1796), Thomas Jefferson (1800), Martin Van Buren (1836), Richard Nixon (1968) and George H. W. Bush (1988) began their first term after winning an election. Among the remaining nine who began their first term as President according to the presidential line of succession after their respective predecessor died or resigned from office, Theodore Roosevelt, Calvin Coolidge, Harry S. Truman, and Lyndon B. Johnson were reelected. John Tyler, Millard Fillmore, Andrew Johnson, Chester A. Arthur, and Gerald Ford served as President but became president through succession and not election. Ford became President after Nixon's resignation in 1974 through the processes of the Twenty-fifth Amendment and then lost the 1976 presidential election, making him the only President to not have been voted for by the Electoral College.
Sixteen presidents had served in the Senate, including four of the five Presidents who served between 1945 and 1974. However, only three were sitting U.S. Senators at the time they were elected president (Warren G. Harding in 1920, John F. Kennedy in 1960, and Barack Obama in 2008). Major-party candidate Senators Andrew Jackson (1824), Lewis Cass (1848), Stephen Douglas (1860), Barry Goldwater (1964), George McGovern (1972), John Kerry (2004), and John McCain (2008) all lost their elections. Only one sitting member of the House of Representatives has been elected president (James A. Garfield in 1880), although eighteen presidents have been former members of the House.
Of the last seven presidents, four (Jimmy Carter, Ronald Reagan, Bill Clinton and George W. Bush) have been governors of a state. Geographically, these presidents were from either very large states (Reagan from California, Bush from Texas) or from a state south of the Mason–Dixon line and east of Texas (Carter from Georgia, Clinton from Arkansas). In all, sixteen presidents have been former governors, including seven who were in office as governor at the time of their election to the presidency.
Since 1964 a state governor has been on a major-party ticket (as either the nominee for President or Vice President). Major-party presidential candidates since 1964 who were also state governors but not elected to the office of president include Michael Dukakis (Massachusetts, 1988), and Mitt Romney (Massachusetts, 2012). Spiro Agnew (Maryland) is the only Vice President since 1964 to have been elected after having served as a state governor, while Nelson Rockefeller (New York) was appointed as Vice President in 1974 following Ford's ascension to the presidency after Nixon's resignation. Other such major-party vice presidential candidates include Sarah Palin (Alaska, 2008) and Mike Pence (Indiana, 2016), and Tim Kaine (Virginia, 2016). For third-party tickets, Gary Johnson (New Mexico) running for the Libertarian Party in 2012 became the first Governor to be nominated by a third-party since George Wallace (Alabama) was the nominee for the American Independent Party in 1968 (Johnson again was selected as the Libertarian Party's 2016 nominee). And the most recent state governor to serve as a third-party running mate is William Weld (Massachusetts) for the Libertarian Party in 2016. The 2016 Johnson-Weld ticket is the first of any party to feature two state governors since the 1948 election when Strom Thurmond (South Carolina) ran for the Dixiecrats with Fielding L. Wright (Mississippi) as his running mate.
The most common job experience, occupation or profession of U.S. presidents has been lawyer;[21] 26 presidents had served as attorneys. Twenty-two presidents were also in the military. Eight presidents had served as Cabinet Secretaries, with five of the six Presidents who served between 1801 and 1841 having held the office of U.S. Secretary of State.
After leaving office, one President, William Howard Taft, served as Chief Justice of the United States. Two Presidents, John Quincy Adams (serving in the House) and Andrew Johnson (serving in the Senate), have served in Congress after being President. John Quincy Adams is the only former President to be elected to federal office after serving as president; when Andrew Johnson served as a Senator, state legislatures appointed the Senators.
Technology and media[edit]
Advances in technology and media have also affected presidential campaigns. The invention of both radio and television have given way to the reliance of national political advertisements across those methods of communication. National advertisements such as Lyndon B. Johnson's 1964 commercial "Daisy", Ronald Reagan's 1984 commercial "Morning in America", and George H. W. Bush's 1988 commercial "Revolving Door" became major factors in those respective elections. In 1992, George H. W. Bush's promise of "Read my lips: no new taxes" was extensively used in the commercials of Bill Clinton and Bush's other opponents with significant effect during the campaign.
Since the development of the internet in the mid-90s, Internet activism has also become an invaluable component of presidential campaigns, especially since 2000. The internet was first used in the 1996 presidential elections, but primarily as a brochure for the candidate online.[22] It was only used by a few candidates and there is no evidence of any major effect on the outcomes of that election cycle.[22]
In 2000, both candidates (George W. Bush and Al Gore) created, maintained and updated their campaign website. But it was not until the 2004 presidential election cycle was the potential value of the internet seen. By the summer of 2003, ten people competing in the 2004 presidential election had developed campaign websites.[23]Howard Dean's campaign website from that year was considered a model for all future campaign websites. His website played a significant role in his overall campaign strategy.[23] It allowed his supporters to read about his campaign platform and provide feedback, donate, get involved with the campaign, and connect with other supporters.[22] A Gallup poll from January 2004 revealed that 49 percent of Americans have used the internet to get information about candidates, and 28 percent said that they use the internet to get this information frequently.[22]
In 2008, the internet became a grassroots and a voice of the people tool—a way for the users to connect with each other and with the campaign, like Dean's website had done in 2004. All of the major candidates had a website and utilized social networking like Facebook and MySpace. The popularity of a candidate could be measured by the number of "friends" on these sites as well as on websites like Hitwise, which listed the number of hits all of the presidential candidate's websites had each week.
Internet channels such as YouTube were used by candidates to share speeches and ads for free. This also served as a forum for users to attack other candidates by uploading videos of gaffes.[22]
A study done by the Pew Internet & American Life Project in conjunction with Princeton Survey Research Associates in November 2010 shows that 54 percent of adults in the United States used the internet to get information about the 2010 midterm elections and about specific candidates. This represents 73 percent of adult internet users. The study also showed that 22 percent of adult internet users used social network sites or Twitter to get information about and discuss the elections and 26 percent of all adults used cell phones to learn about or participate in campaigns.[24]
E-campaigning as it has come to be called, is subject to very little regulation. On March 26, 2006, the Federal Election Commission voted unanimously to "not regulate political communication on the Internet, including emails, blogs and the creating of Web sites"[25] This decision made only paid political ads placed on websites subject to campaign finance limitations.[26] A comment was made about this decision by Roger Alan Stone of Advocacy Inc. which explains this loophole in the context of a political campaign: "A wealthy individual could purchase all of the e-mail addresses for registered voters in a congressional district…produce an Internet video ad, and e-mail it along with a link to the campaign contribution page…Not only would this activity not count against any contribution limits or independent expenditure requirements; it would never even need to be reported."[25]
Criticisms[edit]
Main articles: Criticisms of the Electoral College, Criticisms of U.S. presidential primaries, and History of U.S. presidential nominating conventions
A 2016 general election ballot, listing the presidential and vice presidential candidates
Comparison of the popular vote totals since 1900.
  Republican
  Democrat
  All other candidates together
A 2008 Democratic caucus meeting in Iowa City, Iowa. The Iowa caucuses are traditionally the first major electoral event of presidential primaries and caucuses.
A Texas voter about to mark a selection for president on a ballot, 2008 Election Day
John Adams was the first of a record-high 26 presidents who had been lawyers
Lyndon B. Johnson's 1964 "Daisy" advertisement